Create Your Sofa
We will make your sofa exactly as you want it; the size, style and fabric of your choice. The price only varies depending on the fabric you choose but we've kept that simple too; all fabrics sit in one of four price bands.
All 2 seat sofas £1630-£1930, All 3 seat sofas £2000 - £2420, All 2.5 seat sofas £1815-£2175, Armchairs £1150-£1390
You can Call us, email or pop into the showroom to tell us more. Or you can look through our Sketchbook, Gallery and Fabric Room for a bit of inspiration first.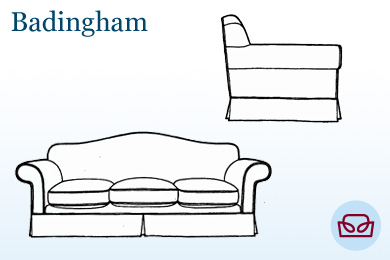 Fabric Room

Browse top name fabrics in The Fabric Room.
Sofa Beds

Most of our sofa designs are available in a sofabed option too. Find out more.
Contact Us

Get in touch with Marriage Sofas.
Tell Us What You Want
Creating your unique sofa design is really simple, just tell us the size, style and fabric you want. You can call us, email or visit to tell us what you want. Or you can play with this three step menu to develop your ideas (when you hit "Submit" we will get right back in touch).
Decide what size sofa you want
We will also make to measure!
3 Seat 2.5 Seat 2 Seat Arm Chair
Select the style you would like
Look through the Sketchbook and Gallery for ideas.
Choose your fabric
Browse in the fabric room or work to a budget by picking a price band
Band A Band B Band C Band D
Select your Fabric
How else can we help?